SINCE 1997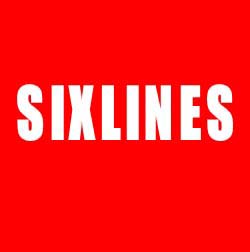 iPad, iPhone,smart-phone,etc. click here.
English page (This page is provisional.)
It is the page only as for the PC. An iPad, iPhone,smart-phone,etc. click here.
 
   This page was provisionally established for the visitor who cannot read Japanese.
   The strange text automatically translated by computer is carried.
When a shopping basket does not operate,
please place an order by e-mail with reference to here.
Notice
Our underwear is designed to fit the Japanese body size...
It is one-size only. British M size Medium
Waist 66cm - 82cm - 26 inches - 32 inches approximate
I am wearing underwear in all photographs.
My waist size is 79cm and hips are 93cm.
Returned goods are impossible.
Since it is the goods which touch the direct skin.
Since a mailing cost is a large sum to the price of goods.
Since the commission of a large sum starts remitting money.

I recommend so that goods may be carefully chosen as you.
Please send the question about goods by e-mail.
I will answer.
info@sixlines.co.jp (for inquiry)
Our underwear is using Japanese-made cloth.
Sewing of these is carried out in Japan.
It is very expensive, a price cannot be discount.
You can make payment using your credit card

VISA DC Master Diners CF KC AMEX JCB









*Orders will be processed in YEN and converted at the current rate.
*There will be a credit card charge of 5% of the total goods price
*The postage cost can be worked out using the table at the bottom of this
page
Click HERE to see today's exchange rate - Japanese YEN - to your currency

* The conversion rate which the credit card company determined is followed.
---
Please push the button "ADD TO BASKET"
KH417ye
low-rise、colorbikini Yellow
(Yellow & white)

 2300YEN(Tax inc.)
Please put goods into a basket.
Please move to another goods page, without progressing to order form.

If it finishes putting in all goods, please move on to form.
A member needs to move on to form from the lower right.
A VISITOR needs to move on from the lower left.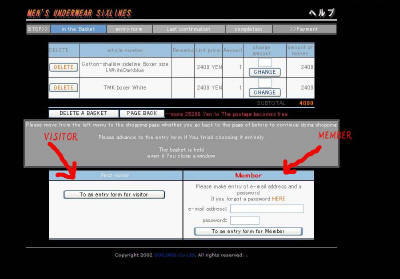 Please make a credit card transaction the last.
When a shopping basket does not operate, please place an order as follows.
 
How to make your purchase 2
1. Please give the following information in your order
The catalogue number (see samples below)
*Please copy & paste a goods number from a homepage to e-mail.

The quantity you require of each item, specifying the COLOR

Your name, address and ZIP or POSTCODE Your country.

Your contact telephone number (if possible)

Send your order by e-mail to info@sixlines.co.jp
Please make the title of e-mail "ORDER."
If you are the member, please be sure to write a password.
The example of entry

ORDER

C9-55300w white 2000yen x 1
A2-55370bk black 2400yen x 2

name
address
Name of a country
*password
phone number
*password.....The password which you decided.
If you do not want to become a member, please write it as "member registration needlessness."
It enters, only when you expect that you become a member.
A discount point can be obtained if you becomes a member.

(purchase price - Tax(5%) - used point at this time x 4%)
info@sixlines.co.jp (for ORDER)
info@sixlines.co.jp (for inquiry)
2 We will e-mail you with the total cost including the credit card
commision and postage and
tell you the URL to go to to pay
3 Complete the required details at this URL. All information is protected
by SSL.
The term of validity between order and payment is 48 hours
When you cancel an order, please tell about.
If 48 hours will pass, I will cancel this order.
4 Immediately we receive payment, we send your order within 24 hours (not
including Sunday)

The parcel is delivered by international mail (EMS)
It passes through customs so it must be marked 'underwear' or 'clothing'.
Customs are entitled to open the package.
Usually, it will arrive in about three days.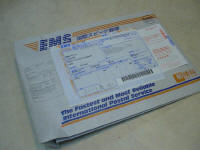 An article is sent in the envelope for EMS.
A name of article is indicated to be clothing.
Postage rates
EMS Rates
Zone
Zone 1
Zone 2
Zone 3
Zone 4
 
Asia
North America,
Central America,
Oceania, Middle East
Caribbean
Europe
South America
Africa
Weight
Bangladesh, Bhutan, Brunei, Cambodia, China (People's Rep.), Guam, Hong Kong, India, Indonesia, Korea (Rep.), Laos, Macao, Malaysia, Maldives, Mongolia, Myanmar, Nepal, Pakistan, Philippines, Saipan, Singapore, Sri Lanka, Taiwan, Thailand, Vietnam
Australia, Fiji, New Caledonia, New Zealand, Papua New Guinea, Solomon Is, Barbados,Canada, Costa Rica, Cuba,El Salvador, Honduras, Jamaica, Mexico, Panama, Trinidad and Tobago, U.S.A. , Bahrain, Cyprus, Iran, Iraq, Israel, Jordan, Kuwait, Oman, Qatar, Saudi Arabia, Syria, Turkey, United Arab Emirates
Austria, Azerbaidjan, Belarus, Belgium, Bulgaria, Czech, Croatia, Denmark, Estonia, Finland, France, Germany, Greece, Hungary, Ireland, Italy, Latvia, Lithuania, Luxembourg, Malta, Netherlands, Norway, Poland, Portugal, Romania, Russia, Slovak, Slovenia, Spain, Sweden, Switzerland, Ukraine, U.K.
Argentina, Brazil, Chile, Colombia, Ecuador, Paraguay, Peru, Uruguay, Venezuela, Algeria, Botswana, Cote d'Ivoire, Djibouti, Egypt, Ethiopia, Gabon, Ghana, Kenya, Madagascar, Mauritius, Morocco, Nigeria, Rwanda, Senegal, Sierra Leone, South Africa, Sudan, Tanzania, Togo, Tunisia, Uganda, Zimbabwe
Up to 500 g
1400 yen
2000 yen
2200 yen
2400 yen
6 garments = approximately 300g